Taxonomy
Name: Pyrola media Sw., Intermediate Wintergreen.
No known synonyms.
A shortly rhizomatous perennial herb about 15 cm tall with a loose rosette of round, stalked, toothed leaves and a spike of white bell-shaped flowers. Distinguished from other Pyrola species by its long (4-6 mm) straight stigma which protrudes from flower and which widens immediately below the stigma-lobes (Stace 1997); but difficult to distinguish from other Pyrola species in the vegetative state, when the number of teeth is a helpful but non-definitive distinguishing feature.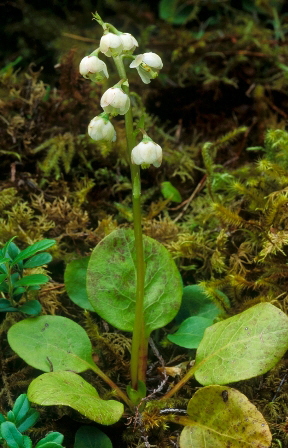 Photography: L. Campbell
Chromosome No. 2n = 46 (Stace 2010).
Distribution
Pyrola media occurs throughout the boreal montane zone of Europe, from arctic Scandinavia to mountains of central Europe, the Caucasus and Asia Minor. In Britain it is frequent in north and central Scotland and extremely local in southern Scotland and Northern Ireland and western Ireland.
In England it is confined to a few sites in Northumberland, Durham and Yorkshire. It was last recorded in Sussex in 1887 and the Wyre Forest on the Worcestershire/Shropshire border in the 1970s. There is a scattering of other English records (e.g. Cheshire, S. Lancs., Shropshire) but many of these are probable errors for P. minor with which it was often confused in the past.
Its strongholds in Scotland are centred on the Cairngorms. Whilst it extends to Skye, and other Inner Hebridean islands, it is absent from the Outer and Northern Isles. It is usually found as scattered individuals in small populations, and is not known to be abundant anywhere in the British Isles.
Lowland to 550 m in Coire Garbhlach, above Glen Feshie in Easterness.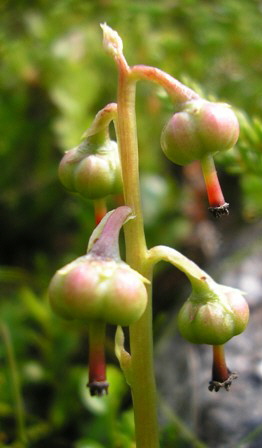 Photography: J. McIntosh
Ecology
A rhizomatous mycorrhizal evergreen perennial woody herb of well drained, mildly acidic to slightly basic soils in woods and heaths, Pyrola media occurs in the mossy dwarf-shrub field layer in W18 Pinus sylvestris – Hylocomium splendens woodland (Rodwell 1991). It also grows occurs in the H16 Calluna vulgaris – Arctostaphyllos uva-ursa heath.
In the Burren, Western Ireland, it occurs on the summits of limestone hills where there is sufficient peat development to support dwarf-shrub heath.
The decline in Pyrola media in woodlands has been attributed to unfavourable management, with some populations lost to afforestation. Heathland populations have variously been affected by changing grazing practices and decreased muirburn. There is over-grazing in some areas and no grazing in others, leading to a very short turf in which some herbaceous species are grazed out, or a rank growth of heather which shades them out (SNH 2007). In some cases heavy grazing has even led to the conversion of heather moorlands to grassland. Burning may also have lead to losses, although this may be less of an issue now with a reduction in muirburn in recent years.
Under-grazing may also result in populations going undetected and unrecorded. An additional factor in the apparent decline of Pyrola media is that there is thought to have been some previous confusion with P. minor, with which it often grows. The situation is further complicated by the reluctance of some P. media populations to flower (especially in N. Ireland and northern Scotland).
Status
Origin: native

Rarity: Nationally Scarce (Stewart et al. 1994).
Threat: Vulnerable (Cheffings & Farrell 2005). It is included on the Scottish Biodiversity List on account of its decline of >25% over a 25 year period. The New Atlas (Preston et al. 2002) indicates a significant decline since the 1960s with a change index of -1.09. The Irish Red Data Book (Curtis & McGough 1988) lists the species with a Threat Number of 6 – equivalent to 'Rare but not threatened.'

Conservation: although not a UK Biodiversity Action Plan priority species, it was selected as a target for concerted conservation action in Scotland by its inclusion in Scottish Natural Heritage's Species Action Framework, 2007.
Further Work
Particularly interesting issues to investigate would include:
The extent and rate at which it spreads clonally.
The persistence or transience of populations.
Is it dependent on Tricholoma fungi like other Ericaceae members?
The incidence of flowering.
Is it self-compatible?
Its seed ecology and seed dispersal.
The effects of shading on populations.
Whether there are any published papers on Pyrola media in Scandinavia
References
Curtis, T.G.F. & McGough, H.N. 1988. The Irish Red Data Book. Wildlife Service Ireland, Stationary Office, Dublin.
Poland, J. & Clement, E.J. 2009. The Vegetative Key to the British Flora. John Poland, Southampton.
Stewart, N., 2005. Report on the Selection of Vascular Plants for the Scottish Biodiversity List. Report by Scott Wilson, Edinburgh for Scottish Biodiversity
SNH. 2007. A Five Year Species Action Framework. Scottish Natural Heritage, Perth.
Citation
McIntosh, J. & Walker, K.J. (Date accessed). Species account:
Pyrola media.
Botanical Society of the British Isles,
bsbi.org
.