Distribution
It is locally abundant in the British Isles. In southern and eastern England populations are confined to chalk and limestone in the Cotswolds, Salisbury Plain, the Chilterns and the Breckland region of East Anglia. It is absent from the chalk south of London and, like Pulsatilla vulgaris and Tephroseris integrifolia, this may represent a limited southerly migration since the last ice age (Rose 1957). It extends along the limestone as far north as the Yorkshire Wolds in v.c. 61. Populations further north are mainly coastal, extending from County Durham to the Moray Firth, with western outliers on cliff-tops on Tiree (Hebrides), the north coast of the Solway Firth and the Isle of Man. Inland populations occur on basalts in Northumberland and on mica-schists up to 710 m in Perthshire. There are also somewhat puzzling populations on the Aran Islands, Western Ireland. Scottish populations are the most northerly and Irish populations the westerly in Europe. All belong to subsp. danicus which is replaced by subsp. dasyglottis throughout Eastern Siberia and North America.
Status
A vulnerable Red Data List species added to the list of UK Biodiversity Action Plan priority species in 2007; not previously listed as threatened, although it has probably been declining since at least the start of enclosure in the 18th century. In 1860 the Cambridgeshire botanist Charles Babington noted that 'until recently (within 60 years) most of the chalk district was open and covered with a beautiful coating of turf, profusely decorated with Anemone Pulsatilla [Pulsatilla vulgaris], Astragalus Hypoglottis [A. danicus], and other interesting plants. It is now converted into arable land, and its peculiar plants mostly confined to small waste spots by road-sides, pits, and the very few banks which are too steep for the plough' (Babington 1860). It appears to have declined substantially on the chalk in S. England and limestone in N.E. England since then, largely due to agricultural improvement or lack of grazing. Less is known about populations in Scotland and Ireland which are presumably stable.
Ecology
A low-growing perennial of dry, infertile grassland. Like many British calcicoles it appears to be physically rather than chemically restricted and is equally happy growing on moderately acid sands/gravels (e.g. dunes) as long as competition from other species is low. It grows best at low altitudes in short calcareous grassland on lime-rich soils. This includes open rides in conifer woodland in Norfolk and in the very short turf of firing ranges on Salisbury Plain.
In northern England, Scotland and the Isle of Man it occurs in grassland associated with base-rich rock outcrops, cliff-tops and sand dunes. In Scotland, for example, it grows on Old Red Sandstone sea-cliffs and on mica-schist. Populations on the Aan Islands in Western Ireland occur on deposits over limestone pavement.
Little is known about its regenerative ecology. However, the recolonisation of former plantation sites in Breckland suggests that its seedbank may be long-lived (A. Byfield, pers. comm.). A. danicus occurs in a range of NVC communities. Populations on calcareous sands and gravels in Breckland are confined to short Festuca ovina grasslands (CG2/7), especially Cladonia spp. sub-community CG7b as well as inland stands of Festuca rubra-Galium verum fixed dune grassland (SD8). Chalk populations occur in short, species-rich Bromopsis erectus (CG3) grassland (as on Newmarket Heath, Cambridgeshire). On Jurassic limestone, as at Barnack Hills and Holes in Northamptonshire, it occurs in Brachypodium pinnatum- Bromopsis erectus grassland (CG5). Inland and coastal populations in northern England and Scotland are less well studied although populations have been recorded amongst inland stands of Festuca rubra-Armeria maritima maritime grassland (MC8).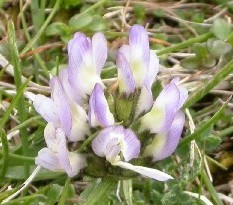 Photograph by K.J. Walker
Further Work
There is an urgent need to assess the scale and causes of the decline in S.E. England, where it appears to be most threatened, along with many other 'low growing species' dependent on open conditions. Further work on its regenerative ecology would also help inform the management needed to restore populations that have been in long-term decline.
References
Babington, C.C. 1860. Flora of Cambridgeshire. J. van Voorst, London.
Rose, F. 1957. The importance of the study of disjunct distribution to progress in understanding the British flora. In J.E. Lousley (ed.) Progress in the Study of the British Flora, pp. 61-78. Botanical Society of the British Isles, London.
Citation
Walker, K.J. (Date accessed). Species account:
Astragalus danicus
. Botanical Society of the British Isles,
bsbi.org
.