Taxonomy
Eryngium campestre (L.), Field Eryngo, is distinctive member of the Apiaceae and is an uncontroversial taxon. It has local names of Daneweed, Watling Street Thistle, Hundred Headed Thistle and, in Wales, Ysgallen Ganpen. It is one of five species of Eryngo which are known to occur in Britain (Stace 1997). There are no known synonyms for this species or information on hybridisation.
Chromosome No.: 2n = 14, 28 (Stace 2010).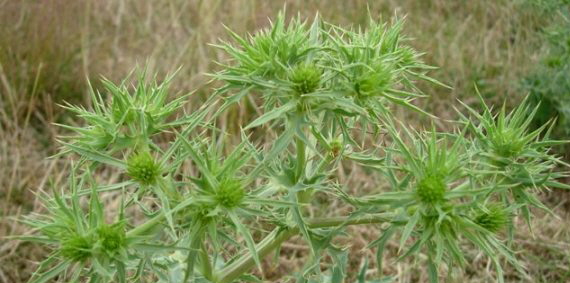 Photograph:M. Ingram

Identification
It is a rigid, pale green,glabrous, branched perennial that grows up to 75 cm high and has distinctive spiny leaves and ovoid umbels. It is superficially similar to E. maritimum and the two can occur together e.g. in sand dune habitats, but the latter species is often smaller with a blue capitulum rather than green in E. campestre.
Distribution
It is native to Spain, France, Germany and Greece and other scattered localities in Europe, and is also found in Africa and Asia.
In Britain there are sites in Cornwall, Devon, Somerset and Kent, and it has been recorded as far north as Northumberland, in Wales and in Southern Ireland (Preston et al. 2002).
Status
In Britain E. campestre is currently considered to be an archaeophyte (Preston et al. 2002), but it has been thought to be possibly native in Kent and Devon (Stace 1997). It was first recorded in 1662 by John Ray in Devon.
It is a rare plant in Britain being recorded in just twelve 10 km squares in the period 1987-99 (Preston et al. 2002), and is listed in the British Red Data Book as Critically Endangered (Cheffings & Farrell 2005), but with the comment 'cannot distinguish between casuals and established sites.'
In Europe it is often common and locally abundant and sometimes considered an agricultural weed (Salva and Bermejo 1987).
Ecology
E. campestre is a plant of dry, open grassland but also disturbed habitats such as waste places and roadsides and often shows a preference for calcareous soils (Stace 1997). The sites in Devon include semi-improved and improved grassland on acidic soils as well as disturbed areas (Ingram 2007).
It is not mentioned as a component of any grassland or other open habitat National Vegetation Community (Rodwell 1991-2000), nor in earlier works on vegetation communities (e.g. Tansley 1939).
It is a hemicryptophyte perennial and is insect pollinated, but has also been noted to reproduce vegetatively (Ingram 2007). It flowers from July to September.
Further Work
Whether this species should be considered native in Britain or not is open to question.
Studies of its genetics in relation to populations on the continent might help to determine the origin of the plant in Britain.
In Southern Europe there are known parasitoids of E. campestre (Kaydan et al. 2006) which, if also found in Britain, might help to confirm native status (Preston 1986). It would also be useful to know if it occurs in any semi-natural vegetation communities.
References
Ingram, M. 2007. The Management of Eryngium campestre at Scabbacombe, South Devon. National Trust.

Kaydan, M.B., Kilincer, N., Uygun, N., Japoshvilli, G. & Gaiman, S. 2006. Parasitoids and Predators of Pseudococcidae (Hemiptera: Coccoidea) in Ankara, Turkey. Phytoparasitica 34, 331-337.

Preston, C.D. 1986. An additional criteria for assessing native status. Watsonia 16, p83.

Salva, A.P. and Bermejo, J.E.H. 1987. Floristic composition and agricultural importance of weeds in Southern Spain. Weed Research 28, 175-180.

Tansley, A.G. 1939. The British Islands and their Vegetation. Cambridge University Press, Cambridge.

Webb, D.A. 1985. What are the criteria for presuming native status? Watsonia 15, 231-236.
Citation
Ingram, M. (date accessed). Species account:
Eryngium campestre.
Botanical Society of the British Isles,
bsbi.org
.