Identification
This is one of the most awkward plants in Britain for identification, as Its leaves are extremely variable in shape, with those submerged up to half a metre long (pers. obs.) and ribbon-shaped, or just a centimetre across and almost round (Stace 1997). It is rarely in flower. The key feature for identification is the presence of stolons which, in the absence of flowers, is the only reliable diagnostic feature that separates it from Baldellia ranunculoides and Alisma plantago-aquatica.
Distribution
According to Cook et al. (1975) and Preston & Croft (1997), L. natans is restricted to Europe and is declining throughout its range. Cook (ibid.) however, observed that it appeared to be expanding its range in Britain; and the New Atlas (Preston, Pearman & Dines 2002) seems to confirm that with a slight recorded increase overall, and recently confirmed records for Ireland and Scotland.

Given the problems of identification, little is certain about this species. It was first recorded in Scotland, for instance, by the normally reliable William MacGillivray (Withering's Arrangement 1841); but that record is often discounted on the grounds that it was not found there again for a long time.

The core populations in Britain are in the lakes of Mid-Wales and the Shropshire Meres, with outlying populations in the canal network and in heathland pools as far away as Dowrog Common in Pembrokeshire and South Weirs in the New Forest. There are always suggestions that it is introduced when it crops up in new sites - for example, at Calthorpe Broad and Potter Heigham in Norfolk (Preston & Croft 1997) - but there is little direct evidence of that. It is a difficult plant to grow, and canal ecologists have tried to introduce it to new sites with little success.
Status
Origin: native, probably throughout the British Isles; but because populations in Scotland, southern England and Ireland have tended to be temporary, it is sometimes treated as an introduction outside its core areas.

Rarity: with fewer than 100 hectads in Britain, it should be classed as Nationally Scarce. There is only one known site for it in Ireland, so it is rare in the Republic.

Threat: it is listed as Least Concern by JNCC (Cheffings & Farrell 2005). BSBI records seem to show a slow increase in the total populations (Lockton 2009).

Conservation: UK BAP priority species. This is one of the most important plants in Britain, for both nature conservation and genetic conservation reasons. The British Isles holds a large proportion of the world population, and it only grows in the best quality water bodies. Being such a demanding plant for its habitat, it is extremely difficult to cultivate or successfully introduce to new sites, meaning that existing sites must be protected.

Legal: Luronium natans is protected in UK law under Schedule 8 of the Wildlife & Countryside Act; which makes it illegal to uproot or damage plants, or to collect them without a licence.

Ecology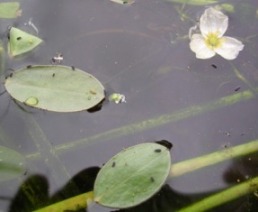 The importance of L. natans to conservation is matched by its highly specialised ecological requirements which could be summarised as 'clean water.' It grows in depths of up to 2 m in oligotrophic lakes in Wales (Trueman, Morton & Wainwright 1995) or in shallower mesotrophic water bodies. It requires high levels of light (Hill et al. 1999), so algal growth, shade and turbidity can be fatal to it.
The sites where it occurs include oligotrophic to mesotrophic lakes and pools - often those with fluctuating water levels, as it tends to flower and fruit prolifically when exposed on bare mud. It is mostly a lowland plant, reaching its altitudinal limit at 450 m in Llyn Bugeilyn in Montgomeryshire (v.c. 47) (Pearman 2004). It also still occurs in several canals, but it disappears when a canal is restored to navigation and boat traffic increases above a very low level. Such low usage sometimes occurs on the most uninspiring stretches of canal in urban areas.
Further Work
The most important thing is to continue to collect good quality, validated records of this species. Its distribution in Scotland and Cumbria is still uncertain, and the origin and persistence of outlying populations is a matter of much interest and speculation.
With a BAP species such as this, a lot of conservation work is happening, such as introductions and translocations. These should be documented on Conservation Evidence, if not written up elsewhere.
References
Cook, C.D.K., Gut, B.J., Rix, E.M., Schneller, J. & Seitz, M. 1974. Water Plants of the World. W. Junk, The Hague.
Hill, M.O., Mountford, J.O., Roy, D.B., & Bunce, R.G.H. 1999. Ellenberg's indicator values for British plants. HMSO.
Lockton, A.J. 2009. Luronium natans update. BSBI Recorder 13, 12-16.
Lockton, A.J. & Whild, S.J. 2005. Rare Plants of Shropshire, 3rd ed. Shropshire Botanical Society, Shrewsbury.
Pearman, D.A. 2004. Altitudinal Limits of British and Irish Vascular Plants. BSBI.
Preston, C.D. & Croft, J.M. 1997. Aquatic Plants in Britain and Ireland. Harley Books, Colchester.
Trueman, I.C., Morton, A. & Wainwright, M. 1995. The Flora of Montgomeryshire. Montgomery Field Society & Montgomeryshire Wildlife Trust, Welshpool.
Citation
Lockton, A.J. (date accessed). Species account: Luronium natans. Botanical Society of the British Isles, bsbi.org.