Taxonomy
The familiar Bluebell, Hyacinthoides non-scripta (L.) Chouard ex Rothm., has a chequered history, having been Endymion non-scriptus (L.) Garke to many British botanists until recently, and before that Scilla non-scripta (L.) Hoffmans & Link and even Scilla nutans Sm. (Clapham, Tutin & Moore 1989). There is more confusion, however, as the native Bluebell in Britain is now joined by a garden escape known as Hyacinthoides hispanica (Mill.) Rothm. and, more commonly, the hybrid between the two, which is correctly called Hyacinthoides x massartiana Geerinck (Stace 1997; BSBI 2007) (syn: H. x variabilis P.D. Sell (Sell & Murrell 1996). There are unresolved questions about the taxonomic status of these taxa, however: whether the 'Spanish' Bluebell is the same as the bluebells in Spain and whether it is merely a subspecies of the common Bluebell, as the two apparently hybridise freely (Taylor, in Preston, Pearman & Dines 2002, p. 817).
Chromosome No.: 2n = 16, 24 (Stace 2010).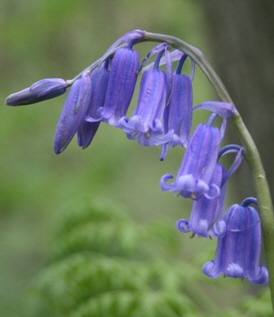 Hyacinthoides non-scripta
Photography: A.J.Lockton
Identification
There are photographs of all three taxa on this page. For detailed differences between them, the Plant Crib (Rich & Jermy 1998) has a useful table.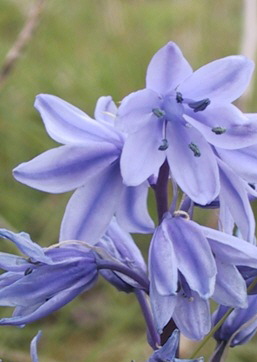 Hyacinthoides hispanica
Photography: A.J. Lockton
Distribution
Hyacinthoides non-scripta is common throughout Britain. It is absent from some of the most northerly islands, high mountains in Scotland, and some peatlands in East Anglia (Preston, Pearman & Dines 2002). H. hispanica and the hybrid are now almost as widely distributed as the native plant, being widely planted in gardens and near habitation. Both H. hispanica and H. non-scripta are considered to be endemic to western Europe; the former being the rarer and confined, in its native range, to the western part of the Iberian peninsula (Tutin et al. 1980).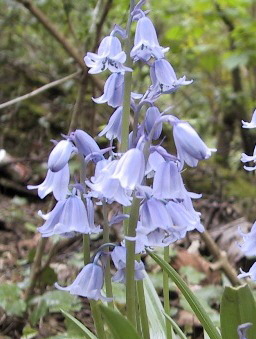 Hyacinthoides x massartiana
Photography: A.J. Lockton
Ecology
Hyacinthoides non-scripta is typically a woodland plant, occurring in calcareous and mildly acid woodlands of all types except the very wettest (Rodwell 1991a). It is sometimes overwhelmingly abundant in the ground flora in the spring, although it dies down by mid-summer and even dead fruiting spikes can be difficult to find towards the end of the season. The most characteristic communities for it are W8 Fraxinus excelsior and W10 Quercus robur woodlands, which are the climax communities over much of lowland Britain. It is often found in grassland, presumably long after woodland is cleared, and under bracken, most typically in U20 Pteridium aquilinum-Galium saxatile grassland (Rodwell 1992, Taylor, ibid.) and in coastal grassland in the MC12 Festuca rubra - Hyacinthoides non-scripta community (Rodwell 2000). Rodwell (1991b) does not list it as a component of any heathland community. The ecology of H. hispanica and H. x massartiana is not well studied. They are rarely seen far from habitation or where garden soil has been tipped on roadsides, and although patches increase in size, they do not appear to spread much from their original planting site (pers. obs.). This raises questions about the fertility and dispersal of the hybrid. Their ability to outcompete native bluebells is often quoted but has yet to be demonstrated empirically.
Status
Origin: all three taxa are endemic to Europe, and therefore of considerable conservation importance; but only H. non-scripta is native in the British Isles.
Rarity: none of these three taxa is rare.
Threat: there is not much evidence of an overall decline in H. non-scripta, and the other two are very clearly increasing.
Legislation: in Britain it is illegal, under the Wildlife & Countryside Act 1981, to sell plants of H. non-scripta; and it is illegal to dig up any plant in the wild without the permission of the landowner.
Conservation: Hyacinthoides non-scripta is often considered an ancient woodland indicator and is sometimes classified as an axiophyte, but in most places it is too widespread to qualify. It is also known to persist in heathland and grassalnd after woodland is felled, although it is less able to colonise new sites without help. Some conservation organisations suggest that the Spanish Bluebell is invading and threatening the native species. There has been little attempt to quantify this, and there is currently no scientific reason to be concerned for the survival of either species. Recently, some conservation bodies have allowed the trade in native bluebells to resume under licence (see, for example, a recent article in The Guardian).
Further Work
Scientists at the Natural History Museum have been studying hybridization in bluebells for the last three years and are planning to publish their results in 2008 or early 2009. Visit their web site for updates, and for details of how to contribute. Anyone recording in the countryside might like to note how much the garden escapes spread into wild woodlands, or whether they remain on the edges where they have presumably been planted or dumped.
References
BSBI. 2007. BSBI Taxonomic Database (Leicester). Botanical Society of the British Isles, University of Leicester.
Citation
Lockton, A.J. (date accessed). Species account:
Hyacinthoides non-scripta.
Botanical Society of the British Isles,
bsbi.org
.