Taxonomy
Authorities differ about the taxonomic rank of Wild Gladiolus in Britain. Sell & Murrell (1996) and Stace (1997) both treat it as a species - G. illyricus Koch - although Sell hints that it might be sufficiently distinct to be worthy of subspecific rank. A.P. Hamilton considered British plants to be distinct, and coined the name G. illyricus ssp. britannicus for them. The subspecies is (or was) otherwise only found in France, although the population there has now apparently been lost (Stokes, i Wigginton 1999). Others doubt the existence of a distinct subspecies, and possibly of G. illyricus itself. Studies in Spain by students at the University of Birmingham showed no features that would distinguish between G. illyricus and G. communis (Lockton 2006). Since then, Aeron Buchanan at Imperial College, London, has studied the genetics of European gladioli in an attempt to clarify this question, but with inconclusive results. His dissertation includes a good account of its history in Britain and a comprehensive reference list.
Chromosome No.: 2n = 60 (Stace 2010).
Gladiolus illyricus. Photography: F.J. Rumsey
Distribution
G. illyricus is, in Britain, largely restricted to the New Forest, although, contrary to the assertion in Fl. Hampshire (Brewis, Bowman & Rose 1996) it was not first discovered there. It was collected on the Isle of Wight by a Mrs Phillips in 1855 - a year before Rev. Lucas found it in the New Forest. Most recent accounts state that it is in decline in the New Forest, although in fact there are more records, and more populations, now recorded than ever before (data from the TPDB). This could be because it is better recorded and because botanists in the past often used to keep localities secret in order to protect it from collectors. It is a difficult plant to find because it often occurs under bracken, and by the time it flowers it can be completely hidden from view. On the Maps Scheme, several other sites outside Hampshire are recorded. These include casual occurrences around the country. Taxonomic uncertainties have led these records sometimes to be dismissed (only one such dot makes it into the New Atlas), but here they are included unless there is specific evidence to suggest they are incorrect.
Status
There has been much debate about the status of the Wild Gladiolus (Stokes, in Wigginton 1999). It is very difficult sometimes to decide whether a plant is native or not. Gladiolus illyricus (or its close relatives) is common around the Mediterranean basin as an agricultural weed and a casual of waste ground. It would be considered native if it had arrived in Britain, unaided by humans, at least 500 years ago. This would make it part of the natural ecosystem, and it would be expected to be a constituent of a semi-natural vegetation community and to have as many pests, parasites and associates as any other native species. None of these things has yet been demonstrated. If it is a recent introduction (neophyte), however, it would be less likely to occupy a discrete niche within a natural vegetation community, and would probably have fewer associations with other native organisms. It is important not to overstate the significance of native status, which is as much a political as a scientific concept. But understanding the dispersal processes of a species is an important question from the point of view of nature conservation, because if G. illyricus is a southern, ruderal species, it might be expected to increase if the climate continues to warm and more waste land is created by processes such as agriculture and mineral extraction; whereas a native species might find itself endangered by changes in the climate and destruction of its specialised niche.
.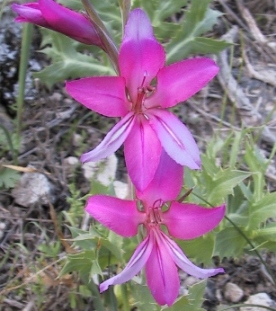 Gladiolus illyricus in Spain. Photography: A.J.Lockton
Further Work
More studies along the lines of Buchanan's genetics work is needed to determine if the British Wild Gladiolus is indeed a distinct taxonomic entity. Ecological studies into its niche in the New Forest could help to shed light on its nativeness, or otherwise, and its value to conservation. Any records of this species outside the New Forest are particularly interesting, as there is some doubt about whether casuals are of the taxon or not. Any such record needs to be fully validated and backed up by photographs and - if it is legal and responsible to collect - voucher specimens.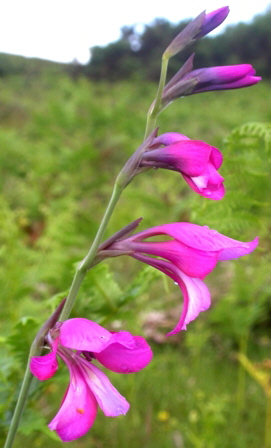 Gladiolus illyricus in New Forest. Photography: F.J. Rumsey
References
Brewis, A., Bowman, R.P. & Rose, F. 1996. The Flora of Hampshire. Harley Books. Buchanan, A. (c. 2007) The Taxonomic Status of Gladiolus illyricus (Iridaceae) in Britain. MSc thesis, Imperial College, London.
Lockton, A. 2006. European gladioli. BSBI Recorder 10, 11-13.
Thanks to Fred Rumsey, and to Aeron Buchanan for the use of his MSc dissertation.
Citation
Lockton, A.J. (date accessed). Species account:
Gladiolus illyricus.
Botanical Society of the British isles,
bsbi.org